Wireless water valve
Wise Orchard's Internet-connected irrigation valve automatically adjusts your plants' watering schedule so that they are always healthy and beautiful, using just the right amount of water by watching your local weather.
You can install it in minutes, attaching it to your tap and hose to easily control and monitor your garden from your smartphone. You bring the hose, it does the rest.
How it works
Wise Orchard pulls local weather data automatically from multiple weather forecast services and thousands of weather stations in order to create and adjust your personalized watering plan in real time.
That, together with the information you provide on your plants and soil, helps it determine your watering needs in order to adjust the schedule automatically and provide you with tips on how to better take care of your plants.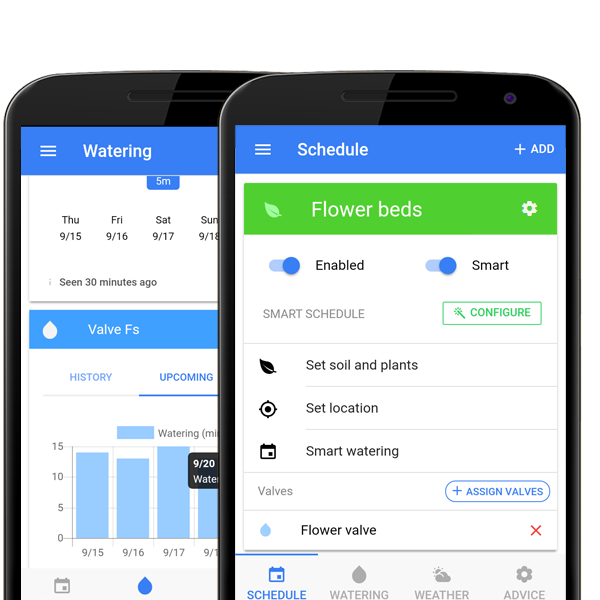 Wifi-connected

Wise Orchard uses your Wifi to get weather and watering schedule updates and even software updates over-the-air (OTA).

Smart and capable of learning

Automatically waters your plants when they need it, using artificial intelligence algorithms that adjust the schedule intelligently.

Keeps you in control

We designed Wise Orchard with both novice and expert gardeners in mind. It can simplify garden care while also offering an unprecedented level of customization.
HELPS YOUR PLANTS
You get tips on how to keep your plants healthy, thanks to our artificial intelligence engine. We process many data points relevant to your plants and local environment from multiple online sources.
SAVES YOU WATER AND TIME
Wise Orchard waters just what your plants need;
no more guesswork, swampy lawns or wilting plants.
You save time and money!
CONTROL FROM YOUR SMARTPHONE
Easy to use and customize: have your watering configuration at your fingertips. Forget those confusing knobs and buttons.
Frequently asked questions
"Works exactly as described. Love it."
"Just a quick note, as watering season begins, to say how pleased I am with my Wise Orchard. It just works! And compared with other watering systems, such a good price."
"I really enjoy my Wise Orchards. No matter how I use them, with sprinklers for my grass and with drippers for my plants/flowers - with the smart watering function everything just gets the water it needs - fully automatic and easy to install."
"What I like most of the Wise Orchard watering system is the good price, avoiding having to water my plants and that it adapts watering to my local weather conditions and forecast."
"I started to use Wise Orchard only for manual remote access from my smartphone, but now I use it for its smart full weather forecast features."
Wise Orchard makes gardening better,
easier and less wasteful for everyone.